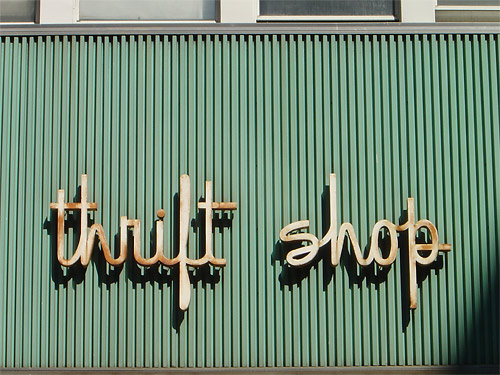 You've been there before. You check out a thrift store you've heard about or maybe you just randomly stumbled upon it. But after a few minutes, you walk out empty handed. Your thrifty little heart is crushed and you leave discouraged.
Though I've been thrifting for about 10 years now, this still happens to me. Last year I checked out the Salvation Army on East 23rd St and walked away feeling it was the Worst. Thrift. Store. Ever. I couldn't find anything and the racks were half empty. I vowed to never go back to this whack location, but after a few months, I went back and I'm so glad I did.
On my next visit I found great pieces, including a vintage silk blouse and a pair of Theory shorts with the original price tag still attached.
Here's what you should do if you strike out at a thrift store:
Go Back: This sounds like a no brainer, but all too often shoppers are too quick to write a store off if it didn't prove successful the first time. Don't do this! For whatever reason the store's inventory may not be at it's peak. Maybe they had a massive sale or donations have been slow. When you go back on a different day and/or time, you may have some serious luck. Also, don't be afraid to ask a sales associate what the best days are to visit.
Give Yourself More Time: People assume they can go in to a thrift store and find a cart full of goodies after just 20 minutes. When you're going rapid pace through a store, you're most likely missing a ton of thrift store scores. Take your time. Slow down. Check out as many racks of clothing as your time will permit. I generally say an hour is a good amount of time to give yourself.
Bring a Friend: Everything's always better when you thrift shop with friends, as you have an extra set of hands and eyes. He or she may find things you would have normally overlooked. Also, if you're in a time crush, you can essentially cover the store in half the time.
What are your tips for dealing with a disappointing thrift shopping trip? Have you ever had success after initially striking out at a store?