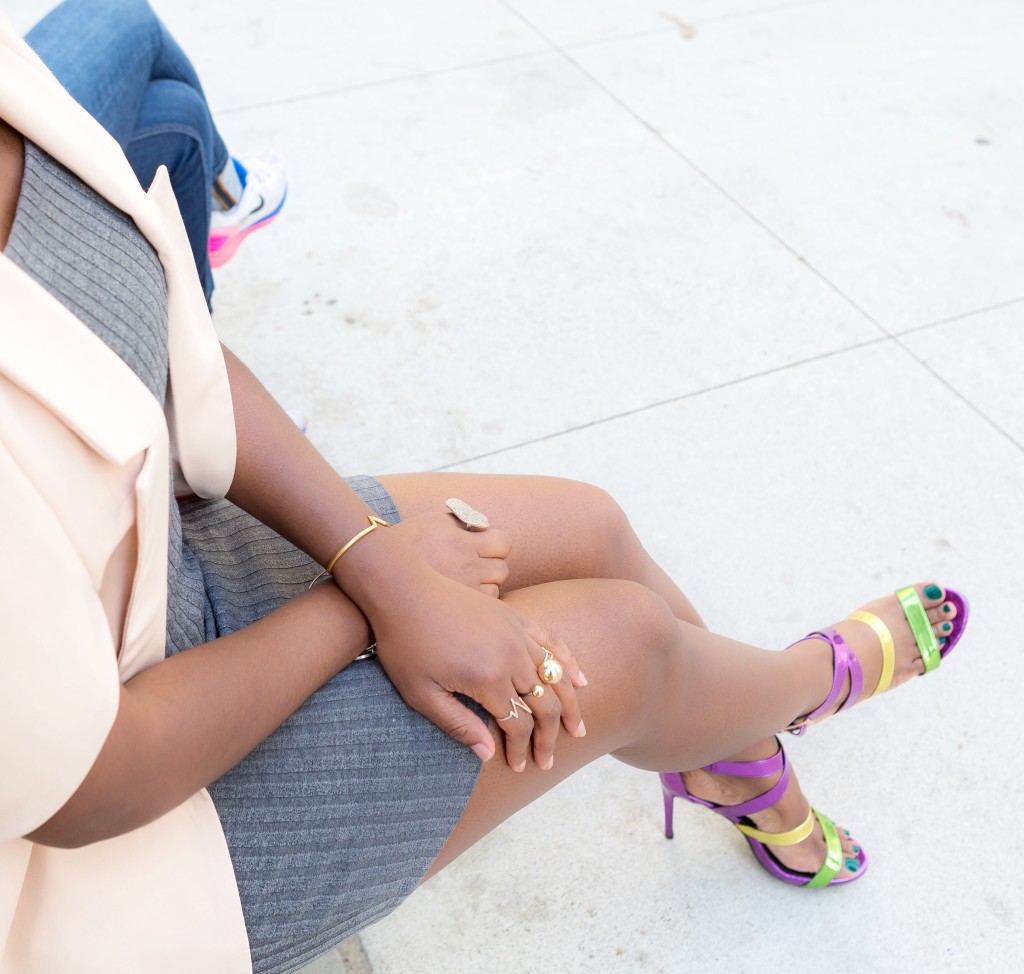 Sometimes you're running late. And let's face it, sometimes you're just feeling downright lazy and don't want to get dressed. But…you still want to look amazing or at least like you tried to put some effort into it.
That's where a few style hacks come in to play. Read on below to see a few tips to always look pulled together!
Pick Your Shoes First
You know what's frustrating? Perfecting your outfit, just to realize you don't have the right shoes to go with it!!! Now you have to take the time to find another ensemble. Instead, start from the bottom up. Decide what shoes you're going to wear and then pick an outfit based on your footwear. Major timesaver!
Rely on Your Fashion Uniform

You know I couldn't do a post like this without mentioning the
fashion uniform
. When you have your go-to looks, it's sooooo much easier to get dressed, even if you only have a few minutes to pull something together. And the fashion uniform does not have to equal a boring outfit you wear over and over. It's all about taking the guess work out of what works for you and makes you look and feel your best.
One or Two Weekday Purses
Switching out your purse can eat up serious time when your. Or sometimes when you're rushing, you realize you left something behind in another purse. Cut down on the whole switch-eroo by sticking with one or two purses during the week. These should be neutral bags that go with everything and are large enough to carry your daily essentials. Also, it's a great idea to have your every day items in a pouch. For example, I have a small makeup bag that's for more than makeup. It fits my wallet, keys, hand lotion, lipliner and oil blotting papers. These are the things I need at all times, so when I swap purses, I can quickly drop the pouch into it.
Check the Forecast
Sounds obvious, right? I can't tell you how many times I've been running late because I didn't do one simple thing: check the forecast the night before. I've had the cutest outfit picked out and then the weather thwarts my plans with rain or frigid temps. So yeah, something as simple as looking at the forecast can help you determine what's a go and what's a no for your outfit. This prevents scrambling at the last minute to find something that works.
Tuck or Tie Your Loose Tee
How to look good in an oversized sweater? Tuck in the front. The same applies to your favorite t-shirt. Take a few seconds and tie the front in a knot or tuck it into your pants, skirt or dress. Not only does this help define your waist a bit more, it gives your overall look a more structured feel.
Cuff Your Hem

Here's another style hack that literally takes seconds. There's something so simple, yet chic about cuffing the hem of your pants. You can do this for jeans or even a pair of joggers. And if you have some cute sneakers, mules or sandals you want on display, the cuff shows off your shoes better.
Opt for One Statement Accessory
Stacking jewelry is trendy, but it can also be time consuming when you're trying to make everything look cohesive. Try sticking with one statement piece. That can be a bold necklace or funky earrings. This takes the guess work out of mixing and matching and you just have to reach for one accessory and head out the door. You can even just throw the accessory in your bag and slip it on before you reach your destination.
Having great style doesn't take a ton of money and certainly doesn't require a huge amount of time. It's the little things that make a huge difference!
Do you have any style hacks or last minute tweaks that make you look put together? What's your most time consuming part of getting dressed in the morning?