A few weeks ago, I
Instagrammed
the photo above of Nicki Minaj's Kmart collection. Needless to say, the response wasn't too favorable. While some loved the dress, others couldn't get behind the other looks. Well, yesterday I had an opportunity to preview the majority of the line, which hits stores later this month, and I'm so glad I did.
First things first, this Nicki Minaj for Kmart collection is definitely geared toward the singer's Barbz and reflects her personal style of fitted, in-your-face prints and hues. But the preview gave me a broader picture of the line. And surprisingly, quite a few of the garments are wearable for women of all styles.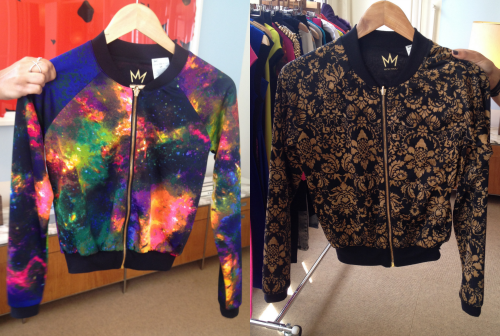 As previously mentioned, the line has a ton of prints, especially with the leggings. Wearing such bold patterns can scare some women off, but the line has printed jackets that are a perfect fall transition piece. They also have matching bottoms.
Cable knit sweaters are a must for fall and winter. This fuchsia number will really stand out even when the weather is less than favorable. And the sweater comes in a few other bright tones.
A gold lamé crop top can come off a little like club attire, but I really liked this one. It would work perfectly under a structured blazer and high waisted pant.
Before hitting up the preview, I wasn't sure if accessories were a part of the collection and luckily, they are. By now we all know a purse, pair of earrings, statement necklace, chunky ring, etc. are all you really need to spice up your look.
Starting at just $6.99, Nicki Minaj for Kmart has it all, ranging from gold trimmed clutches to ear cuffs to long necklaces.
I was particularly impressed with the necklace above. I picked it up and it had some serious heft to it.
Will you be checking out the line when it hits stores? Do you see any fall must haves in the Nicki Minaj for Kmart collection?