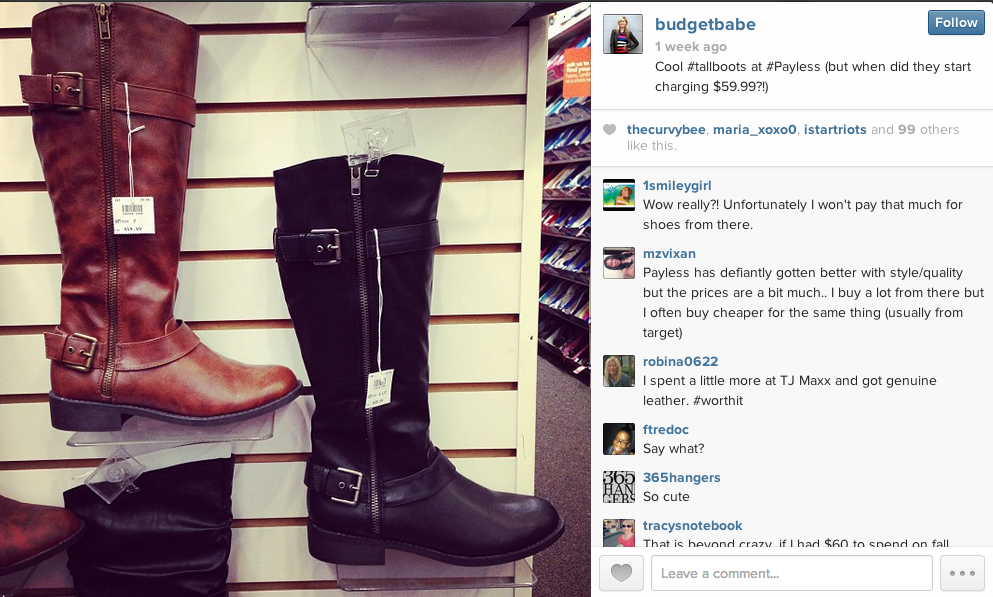 Last week, Dianna from the Budget Babe
Instagrammed
the photo above and I was absolutely baffled. She totally co-signed a trend I'm noticing more and more. Um, when did
Payless
start charging $60 for shoes? I can kinda sorta understand that price tag for a designer collaboration, but a basic pair of boots. At Payless. For $59.99?!
I remember when I was a kid and my mom used to buy my shoes from Payless because the store was affordable. But now, have they lost that budget friendly appeal?
But it's clear to see the prices have steadily increased. The boots below are
Dexflex by Dexter
and are the perfect flat boot for fall. They feature a faux fur lining and faux leather. But they're $69.99.
Of course all of the options aren't overpriced. You can certainly find chic flats, comfy sneakers and neutral pumps for $20-$30 and some are on clearance for less than 20 bucks.
But if I'm going to buy a pair of sturdy boots for the season, I want genuine leather or if I go the faux route, I'm not paying $70! Or I could just go to a TJ Maxx, Macy's or Loehmann's, where I'll end up paying even less.
Have you noticed a major jump in prices at Payless or your favorite budget retailer? How much are you willing to pay for shoes at an affordable chain? Does paying $50, $60 or $70 defeat the purpose of shopping at a cheap chic store?